The Fact That You Don't Understand My "Putuu" Song Doesn't Mean It's Borla – Stonebwoy Responds To Critics (+ Screenshots)
Popular dancehall crooner Livingstone Etse Satekla, better known in showbiz as Stonebwoy, has responded to critics who think his viral "Putuu" song is rubbish.
The debate of Ghanaian artiste producing what many call "borla" songs has come up again following Stonebwoy's commendation of Nigerian artistes for putting Africa on the map after Wizkid and Burna Boy won Grammy yesterday.
READ ALSO: Stonebwoy Sets Togo on fire as he jams to his latest Putuu Hit(Video)
While commending the Nigerians, Stonebwoy shockingly cast doubts on local efforts.
A Twitter user took a swipe at him for recording "borla" songs. According to the lady, Nigerian artistes don't record rubbish that's why they are winning globally. She asked how Stonebwoy expected to win Grammys with his "Putuu" song which some consider to be "borla".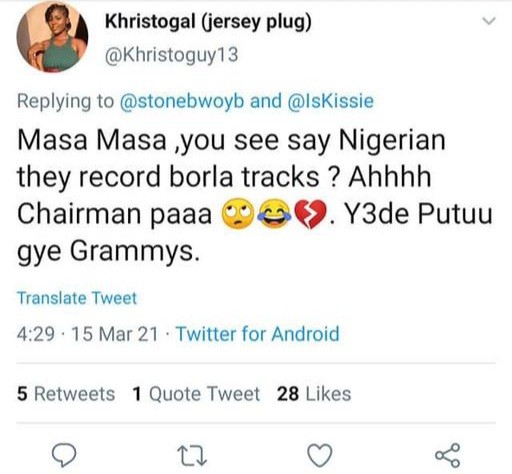 Stonebwoy responded to the lady in a tweet. He said when it comes to music, language is not a barrier. He added that the fact that people don't understand what he was communicating in the song doesn't mean it is a "borla" track.