Nana Akua Addo Boldly Takes On Ayisha Modi As She Reacts To Her Threats (Video)
Ghanaian model and chief slayer, Nana Akua Addo has decided to also bare her teeth at Ayisha Modi following the latter's firey video on Instagram yesterday to insult and call her out.
In Ayisha Modi's video available to zionfelix.net, she said that Nana Akua Addo went behind her to lie to the handlers of singer Victoria Kimani just so she loses a managerial deal she got recently.
READ ALSO: Adebayor Got Lost On His Way To Visit Funny Face – Kwaku Manu Reveals
Ayisha Modi also claimed that Nana Akua Addo owes her some $15,000 she took from her seven months ago and threatened to beat her to a pulp if she does not return the money soon.
Well, Nana Akua Addo has proved that she is not one to run from social media squabbles because she has fired back at Ayisha Modi.
Sharing a video of herself jamming to a song of Daddy Lumba, she added the caption: "If someone has an issue with you, and they are telling everyone except you, trust me they don't have a real issue with you," Nana Akua fired in her first Instagram post responding to Ayisha's claims. "They enjoy the attention they are getting from talking about you. I just said fiiiiiiiiiiii , wusi $15,000 you get some $$$".
READ ALSO: VIDEOS: Zylofon Music Acquires 3 Brand New Customized Expensive Cars For Their Signed Musicians To The Shock Of Netizens
Nana Akua dropped another post that had the photo of Ayisha Modi and asked if her face in any way suggested that she has $15k.
"WUSI You Gave Me What???? $15,000 You've Got Jokes I have Said fiiiiiiiiiiiiiiiiiiiiiiiiiiiiiiiiiiiiiiiiiiiiiiiiiiiiiiii bitch why the lie @she_loves_stonebwoyb see your face, you see 15k before ???4 more for nana wai clouttt manage your life b4 you can manage a talent you hear."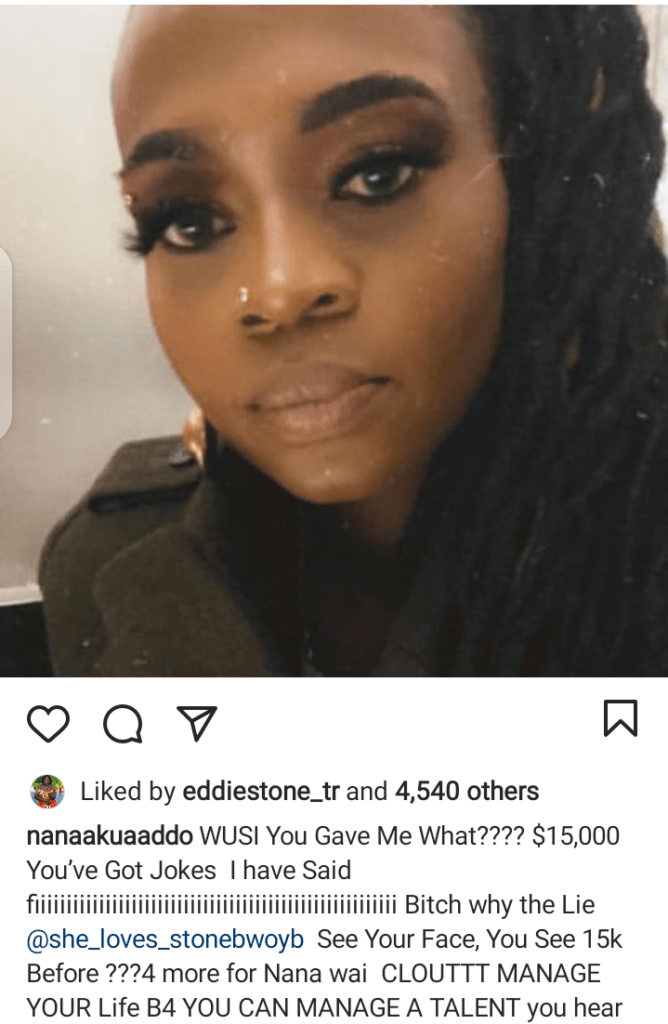 READ ALSO: Kwadwo Safo Jnr Lines Up All His Luxurious Cars Which Include A Rolls Royce, G-Wagon And Others On His 35th Birthday (Video)
Just when everyone thought she was done, Nana Akua Addo again pulled out an old post of Ayisha's in which she was praising her.
She captioned the post: "Oday they love you, tomorrow they hate you . This life eiiiiiiiii no balance. Your problem is you fuckin don't no when to shut-up shutup iam your mate @she_loves_stonebwoyb".